A Guide to the Virginia Beach Virginia Navy Bases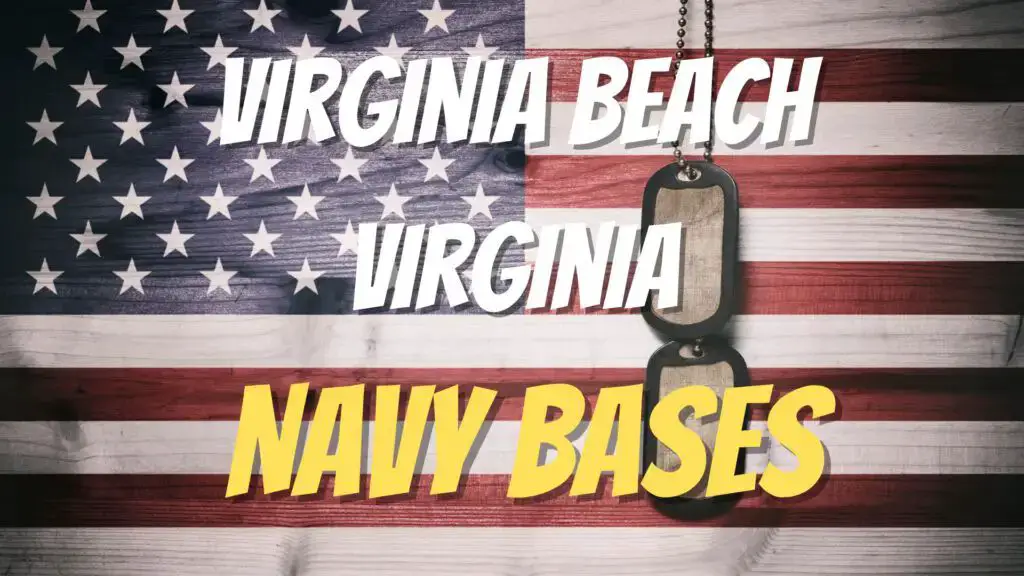 Virginia Beach, Virginia is home to four Navy installations: Joint Expeditionary Base Little Creek-Fort Story, Naval Air Station Oceana, Naval Amphibious Base Little Creek, and Dam Neck. This guide provides details about each base and the services they offer for sailors and their families.
Share this blog with your friends and family!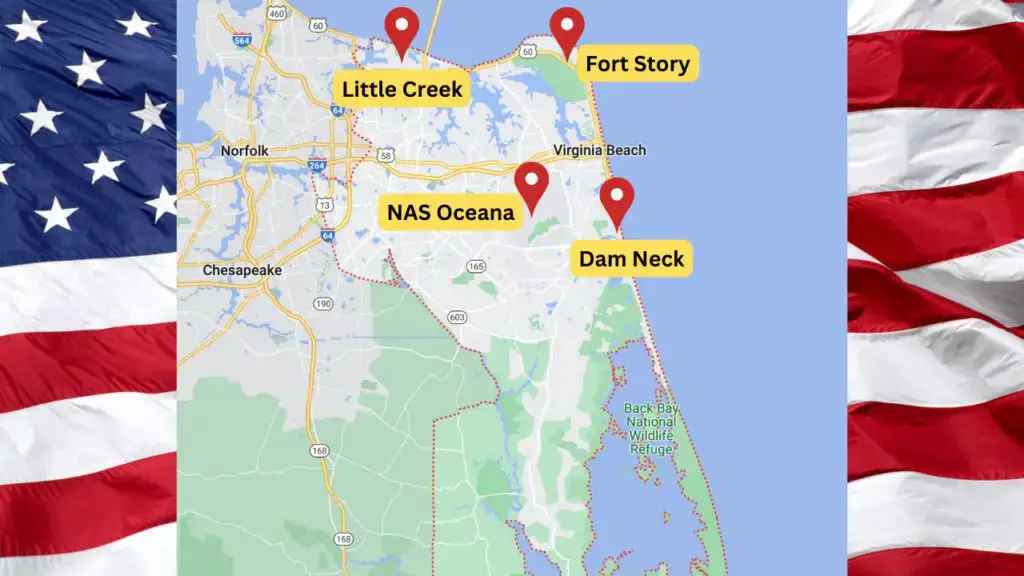 Virginia Beach, Virginia is home to the Navy's largest air base on the East Coast. Naval Air Station Oceana supports over 10,000 active duty personnel, 3,000 civilian employees, and their family members. There are many different airplane squadrons within Oceana and it's know for being a training location as well. The main aircraft at this base include the F/A-18 Hornet, EA-18G Growler, and E-2C Hawkeye. Beyond aircraft, this base also houses Fleet Readiness Center Mid-Atlantic and a Navy Recruiting District as well as other important commands.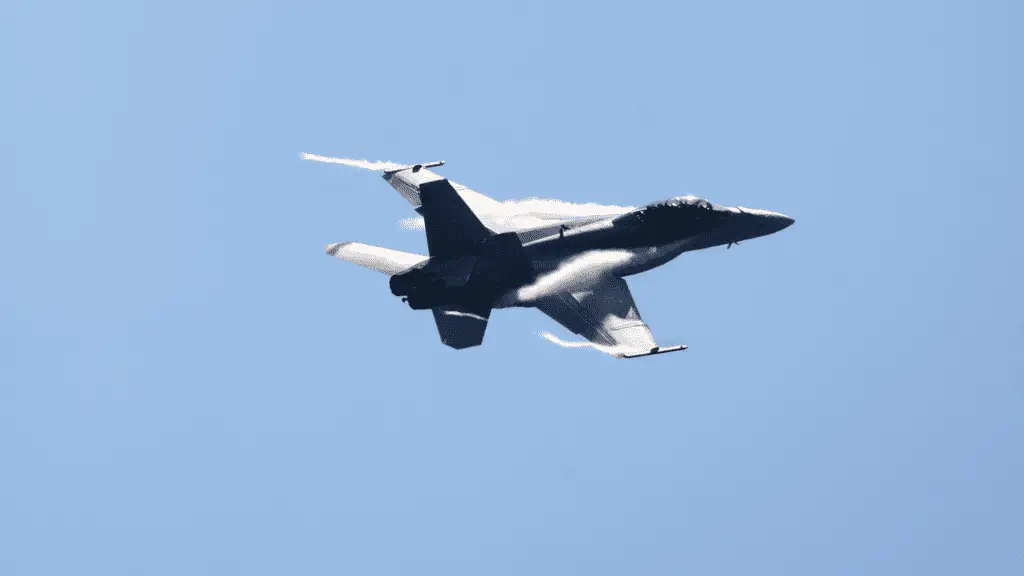 Joint Expeditionary Base Little Creek
Joint Expeditionary Base Little Creek in Virginia Beach is one of the U.S. Navy's larger amphibious bases and home to a number of military commands, including the Amphibious Force Seventh Fleet, Beachmaster Unit Two and Naval Beach Group Two. The base has several training facilities as well and holds over 7,000 active duty personnel and 1,500 civilian staff and their families residing at the base.
NAS Oceana and JEB Little Creek are the two major Navy bases in Virginia Beach, Virginia. Established in 1940 and 1917 respectively, these installations have been central to military efforts across several eras, participating in World War II, the Korean War, the Vietnam War, Operation Desert Storm, and Operation Iraqi Freedom. Both provide essential training facilities for naval personnel headed to active duty.
Both of these military installations not only serve as important strategic assets for the U.S. Navy, but also play an instrumental role in supporting the local community. Through a wide range of outreach initiatives such as youth sports programs, education initiatives, and charitable events, they have created deep bonds with the citizens of Virginia Beach and the surrounding areas, while providing huge economic benefits to the region in terms of job opportunities and billions of dollars in annual economic output.
Naval Air Station (NAS) Oceana and Joint Expeditionary Base (JEB) Little Creek are two vital Navy bases located in Virginia Beach, Virginia. However they aren't the only bases in Virginia Beach, Virginia as the area has a large Military presence.
Our team talks to so many people thinking about moving to Hampton Roads Virginia just like you and we absolutely love it! Click the button below or go ahead and shoot us a text by tapping this number: (757)-520-2092
Dam Neck Annex is another Navy base in Virginia Beach, Virginia. It is part of Naval Air Station Oceana and is home to the Fleet Combat Training Center Atlantic, as well as several other commands, which include the Center for Information Warfare Training (CIWT) and the Expeditionary Warfare Training Group (EWTG). The CIWT provides training for sailors in information warfare, cryptography, and other areas related to technology and intelligence. The EWTG provides training in a variety of areas, including combat operations, tactics, and communications.
The Dam Neck Annex was built in 1942 as a training center for naval personnel during World War II. Since then, it has expanded and evolved to meet the changing needs of the US Navy. Today, it is one of the more important training facilities in the United States, providing advanced training to sailors in a wide range of skills.
The Dam Neck Annex is located directly along the Atlantic Ocean. The base is equipped with the latest technology, including computer labs, simulation systems, and virtual reality training environments, to provide sailors with the most realistic training experience possible. In addition to its training facilities, the Dam Neck Annex also has a large recreation center, a fitness center, and a swimming pool, which help to provide sailors with a well-rounded training experience. For Military families the beach is a great experience, as this base has access to the Atlantic Ocean exclusively for Active Duty and Retirees and their families.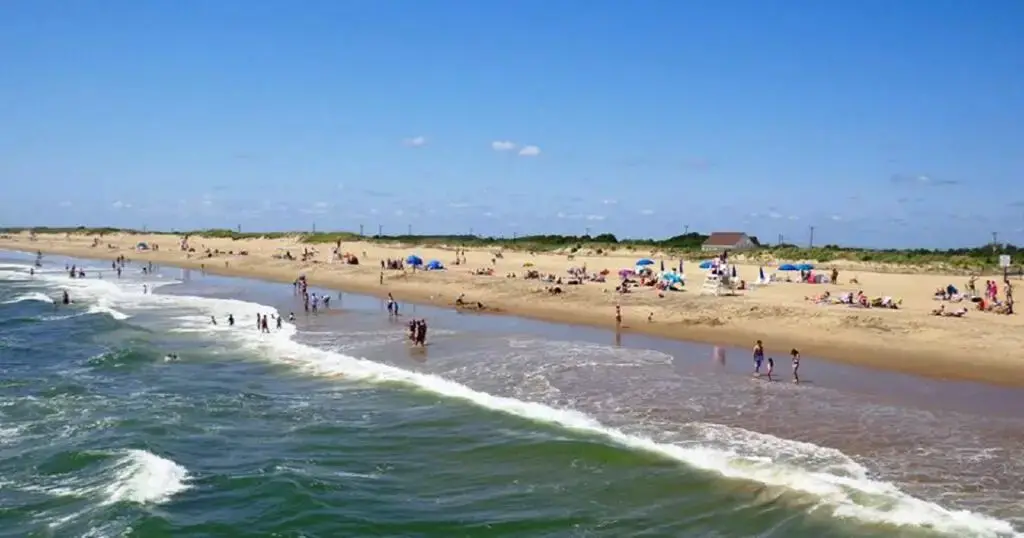 Fort Story is the 4th military installation located in Virginia Beach, Virginia. From a size perspective, it's the smaller installation of the Virginia Beach bases. It was established in 1917 and is home to several important military organizations, including the Joint Expeditionary Base Little Creek-Fort Story and the Military Ocean Terminal Sunny Point. The Joint Expeditionary Base Little Creek-Fort Story provides support to the United States Navy, Marine Corps, and Coast Guard, while the Military Ocean Terminal Sunny Point is one of the larger military cargo terminals throughout the Navy.
Fort Story in Virginia Beach has a long history of serving the military, with roots dating all the way back to the American Revolutionary War. Over the years, the Fort has played a key role in many important military operations, including World War I, World War II, and Operation Desert Storm. Today, however it's a modern base that provides essential support to the military and its personnel.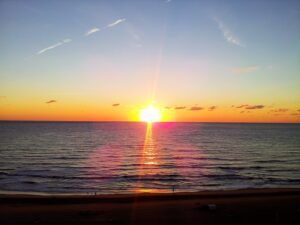 Located in Virginia Beach, Virginia are four vital military installations that each serve a meaningful purpose. Dam Neck Annex is an information warfare, combat operations and cryptography training center for Naval servicemen. Fort Story is a modern military base that provides logistics support, housing and amphibious training courses. Additionally, the larger bases of JEB Little Creek and NAS Oceana are critical amphibious and air bases for the US Navy. Virginia Beach, Virginia's military bases show the United States' strong military presence there.