What Are The Best Schools in Virginia Beach?
Choosing the right school for your child is an important decision, and if you're in Virginia Beach, you'll want to know which schools are the best. This quick guide provides you with all the information you need to make an informed decision, including rankings and other important factors to consider. Also if you're wondering if the city of Virginia Beach, Va is right for you, check out this other article we did on the Pros and Cons of Virginia Beach.
When choosing a school for your child, it's important to research the school's performance and rankings. Look for information on test scores, graduation rates, and college acceptance rates. You can also check out websites like GreatSchools.org, Schooldigger.com and Niche.com for rankings and reviews from other parents.  For the information in this article, we will be using both Schooldigger.com and Niche.com.  Keep in mind that rankings aren't everything, and it's important to consider other factors like location, extracurricular activities, and the school's overall culture and values.
Information on the Virginia Beach, Virginia School District
The Virginia Beach School District serves over 68,000 students across the 86 schools in the city.  The district is well known for its standard of education excellence, as such the city is well sought out with those moving into the Hampton Roads area. The district is very diverse and they strive to make sure all students' needs are met and being a place where their growth is encouraged. The district offers a wide range of academic programs, extracurricular activities, and supportive resources, all designed to put students first.The dedicated teachers, equipped with the latest technologies, work to inspire and challenge students to become lifelong learners. The district has an emphasis on collaboration, critical thinking, and creativity that prepares students to thrive in an ever-changing world. From state-of-the-art facilities, the Virginia Beach School District is dedicated to creating a vibrant educational landscape where students hopefully will be able to dream big and achieve even success.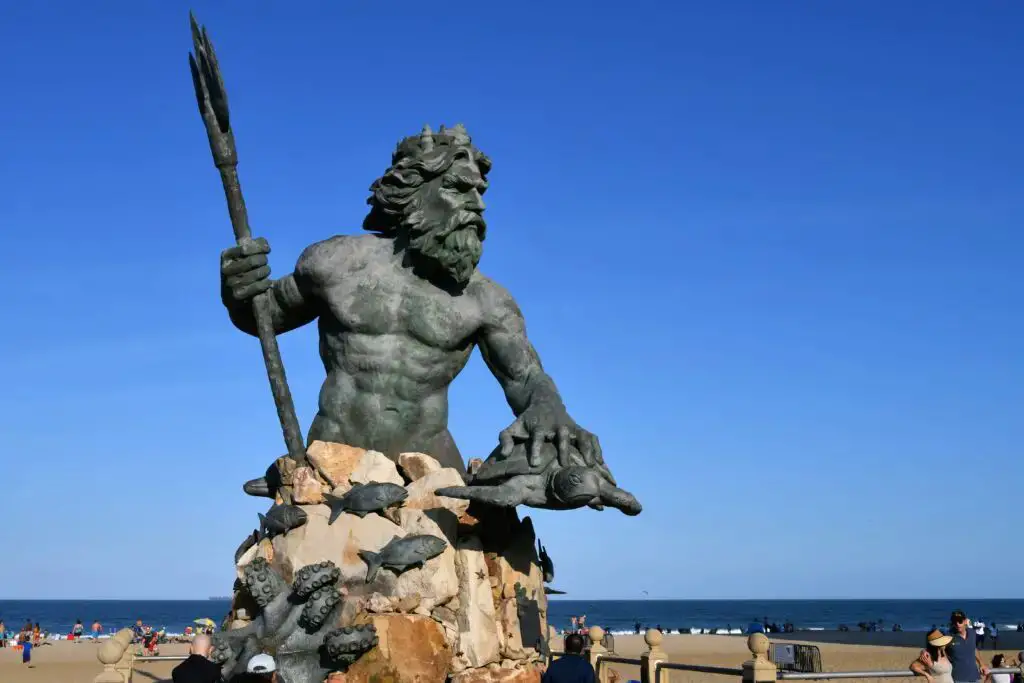 Top Elementary Schools in Virginia Beach, Virginia
We are looking at Schooldigger.com to determine some of the top Elementary schools in Virginia Beach. According to their rankings the top 3 schools are spread out throughout the city.  They have North Landing Elementary, Kingston Elementary, and Three Oaks Elementary as their top Elementary Schools. All 3 schools were given 5 stars by Schooldigger and North Landing Elementary is their 5th ranked school out of 1,109 Elementary schools in Virginia.
Interestingly, Niche.com had a completely different list for their top elementary schools in Virginia Beach.  According to their website the top school is Tallwood Elementary followed by Old Donation and Salem Elementary. Niche.com ranks the schools based on a grade and all three of these schools were given grades of an A.  Old Donation school is a gifted school that is filled on an application basis.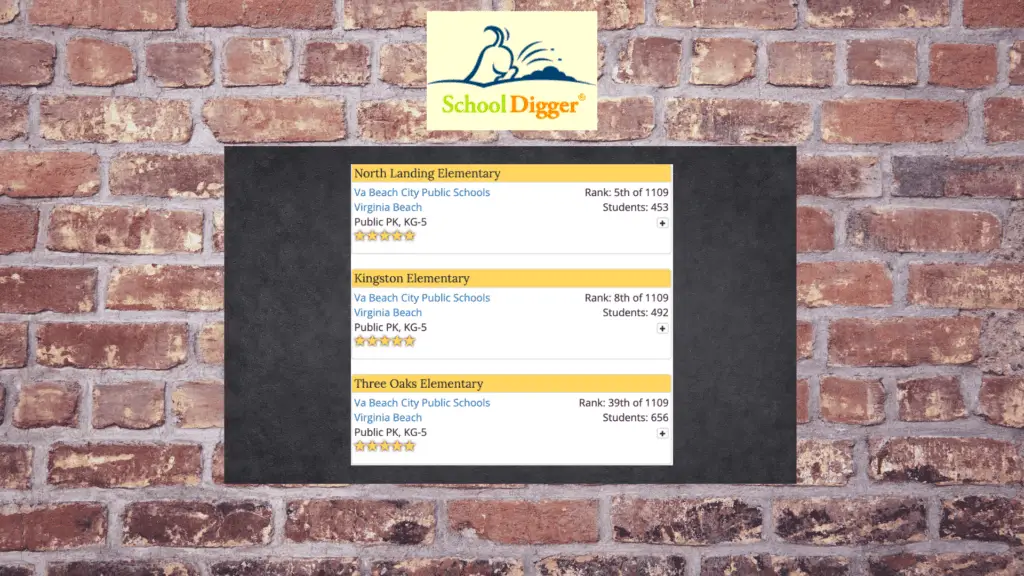 Want To Schedule A Time To Talk?
Get in contact with my team and I on how we can help you with your move to Hampton Roads Virginia. 
Top Middle Schools in Virginia Beach, Virginia
Both websites that I used for this article, Schooldigger.com and Niche.com, listed the same middle schools in their top three list.  Those schools are Great Neck Middle, Salem Middle, and Princess Anne Middle. Both had Salem Middle as their second ranked middle school, as it was given five stars and a grade of an A. However their top school was different as Schooldigger listed Princess Anne Middle as their top, as it was 39th out of 415 Virginia middle schools. Niche.com had Great Neck Middle and gave them a grade of an A.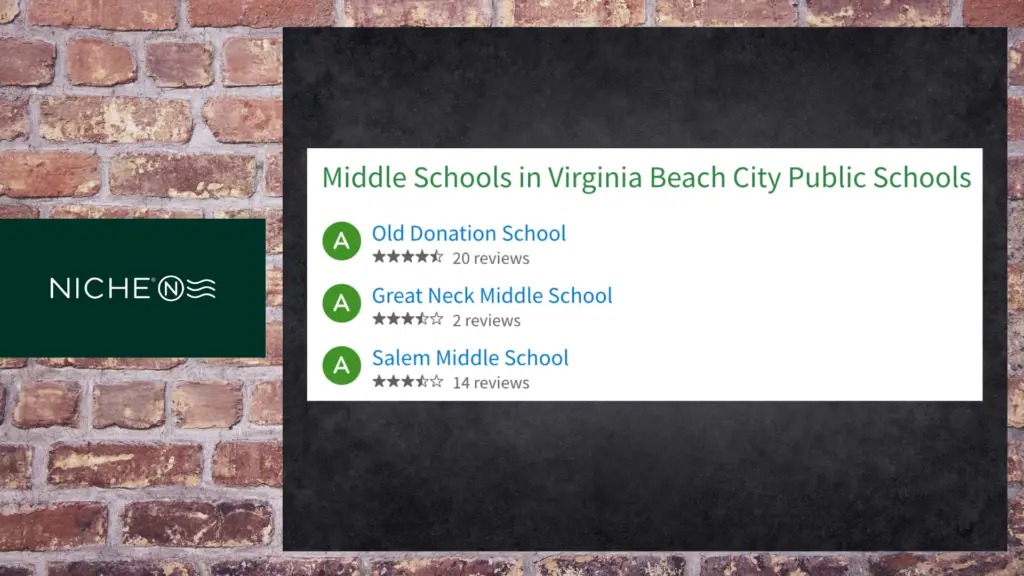 Top High Schools in Virginia Beach, Virginia
The city of Virginia Beach has 11 High Schools throughout the city. Unlike the middle school rankings, the websites have different schools listed for their top high schools in Virginia Beach. The schools listed are Cox, Kellam, Salem, Ocean Lakes, and Princess Anne High School.  With a grade of an A+, Niche.com has Ocean Lakes ranked as their top high school in Virginia Beach.  Schooldigger.com meanwhile has Kellam with 5 stars as the top high school in the city and also lists them as 19th out of 125 schools.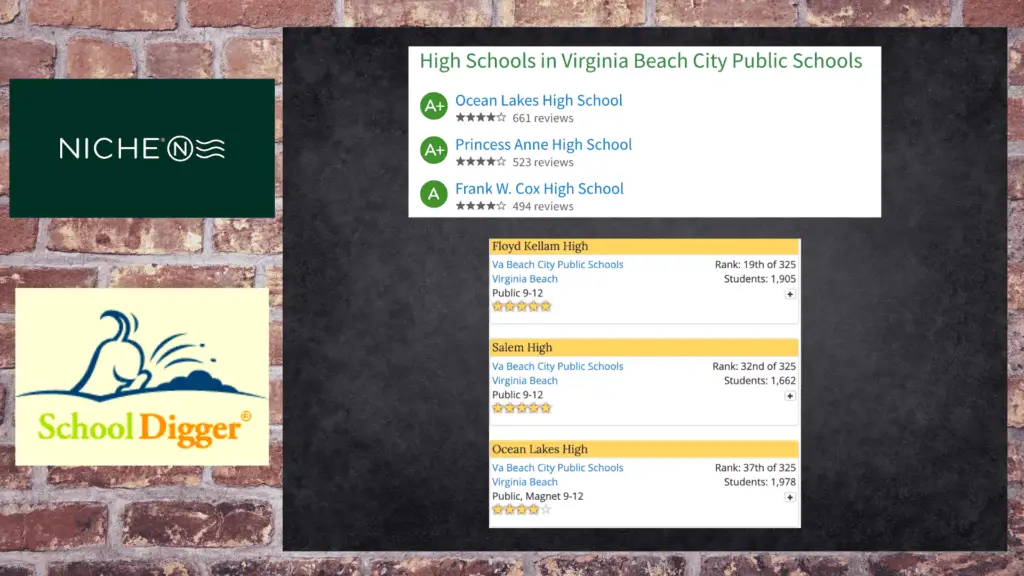 Are The Virginia Beach Schools Right For Your Child?
In conclusion, the Virginia Beach School District definitely stands out for its educational excellence, within the 68,000 students it serves. With a strong commitment to innovation and collaboration, the district has created a dynamic learning environment where each student is encouraged to reach their full potential. With the dedicated teachers who inspire and challenge students, Virginia Beach schools provide the tools and resources necessary for success. Whether students are exploring their passions, honing their critical thinking skills, or preparing for a rapidly changing world, the Virginia Beach School District ensures they are well-equipped to thrive. These schools listed are the best Virginia Beach schools. You just need to decide if the Virginia Beach Schools are right for your child?
If there is anything you think I missed or you have any questions about the city please comment below or reach out to me here.
I hoped you enjoyed reading this article. If you didn't get a chance to watch the video then you may have missed out on some of the Best Schools in Virginia Beach. Check out the video and for more content head over to our YouTube Channel "LIFE IN HAMPTON ROADS". Don't forget to SUBSCRIBE!
CLICK ANY OF THE BUTTONS BELOW TO SHARE THIS ARTICLE TO YOUR SOCIAL MEDIA OR PRINT OUT IF YOU NEED TO.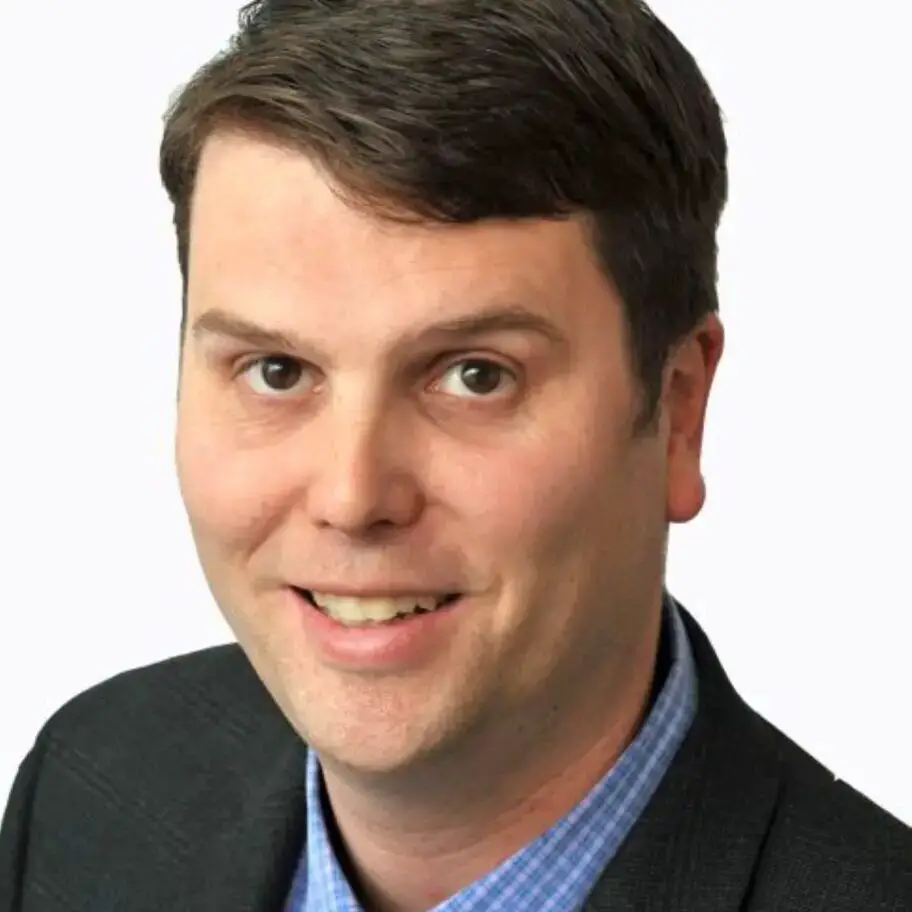 DJ Parker is your local Realtor and guide to Hampton Roads, Virginia. As a native of Chesapeake and Virginia Beach, Virginia for over 30 years, he has the local knowledge you need. He has helped clients with Real Estate throughout Chesapeake, Virginia Beach, Norfolk, Suffolk and all of Hampton Roads Virginia.